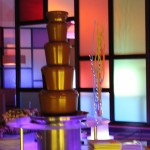 This is our largest and most popular chocolate fountain.
*Pinnacle Package: $365*
 This is a beautiful 44 inch chocolate fountain.  It really creates an impression with your gifts along with providing delicious chocolate for your guests to dip strawberries, pretzels, cookies, bananas or any of the other delicious dipping items you choose.  This fountain comes with a drip guard and can be decorated to match your color schemes.
This 44 inch chocolate fountain is perfect for all kinds of events including weddings, receptions and corporate events where you aim to please your guests as well as impress them.  It is also a great feature for birthdays, baby showers, Christmas parties, New Years Eve parties, Bar Mitzvah's, Bat Mitzvah's, and Quinceanera's.
  This chocolate fountain comes with 24 lbs of chocolate and is perfect for 150-250 guests.
This fountain also has a wind guard available.  If you are doing an outside or back yard event this wind guard is a must.
Add a wind guard for just $25.