Chocolate Fountain Self Rental
For smaller events this chocolate fountain works out perfectly!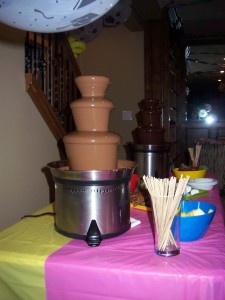 This is our 19 inch chocolate fountain.  This chocolate fountain is the only one that we use as a self rental.  This comes with 6 lbs of chocolate and serves up to 50 people.
This self rental chocolate fountain requires you to pick up and drop off.  We are located in Springville, Utah.  You must return the fountain clean.  Call us at 801-557-9432 or use our contact form to reserve your fountain.