Chocolate Fountains are fun and they are delicious.  They are great to have at any venue as long as you have some controls.  Controls over your guests and controls over weather conditions.  We have done chocolate fountains for several years now and have done hundreds of corporate events, birthdays, and weddings.  They are all fun and we seek to make the experience perfect.
A recent experience caused me to reflect on one other event.  Both were outside.  Both were in beautiful venues with trees, grass, gardens and water features.  What a perfect event.
Both being outside were subject to the weather.  Both clients/hosts,  upon arrival, were informed that if the wind picked up the fountains would have to be shut down because chocolate would blow all over their guests.  Both were also informed of the trees shedding.  Both said to go ahead and set up and they would have to live with what ever happened.
We do have one fountain that can be used with a wind guard for a small extra fee.  This fountain was used for one of these events but there was a second fountain without a wind guard.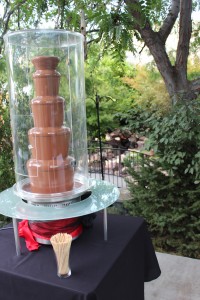 The most recent event that caused me to think about the previous one the wind picked up immediately after starting the fountain and it has to be shut down.  We tried to run it between wind bursts but it got very cold quickly.  It was so cold that the chocolate hardened on the fountain before it got to the bowl to be reheated.  What we had was a chocolate sculpture instead of a fountain.  There was some melted chocolate still in the bowl that the guests could dip their goodies in.  Many of the guests had to take pictures of the fountain because it was pretty cool.  Then it rained.  It was cold, it was raining, and it was windy for an outdoor wedding reception.  There was no shelter.  We bore through it until the end of the event and packed up and went home.  The job was done, it wasn't perfect but it was done.
The reason I bring up these two events. is because out of hundreds of events, these two were the only ones where after the fact the clients were not happy.  They wanted to blame the weather on their chocolate fountain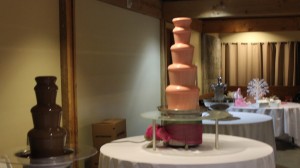 caterer.  We can't control the weather. So if you are planning an outdoor event, plan for an alternative if the weather will not cooperate.