Chocolate Fountains Rule The Party
Seriously, what better way is there to entertain your guests.  Keep them busy all night long dipping pineapple, strawberries, and cookies in delicious chocolate.  Our 44 inch chocolate fountain is the most popular and makes a great event centerpiece.  Both of these events used milk chocolate in our 44 inch fountain.  These events were wedding receptions but you can see that you could get the same result at your corporate event or birthday party.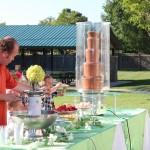 We always provide superb service and make sure everything is running on time.  After hundreds of events A Chocolate Affair is Utah's premier chocolate fountain provider.  We take that part of event organizing and make it easy.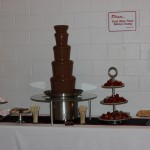 We set up, maintain, and clean up the chocolate fountains.  All you have to worry about is mingling with your guests.  We do our best to make your event perfect.  Book your Utah Chocolate Fountain for your next event.