It was quite the social event.  We provided our 27 inch chocolate fountain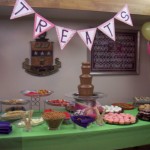 with milk chocolate.  The sorority provided the dipping items.  I think that they have a real sweet tooth.  Now we know that the Greeks enjoy chocolate fountains.
They invited the boys from the frats over for some socializing and sugar.  They enjoyed dipping the cookies and strawberries in the warm milk chocolate.  Chocolate fountains are a great party centerpiece.