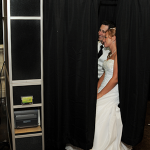 We are now offering a photobooth for your events.   A Chocolate Affair (ACA) just added one more benefit for your wedding, party, or corporate event.  A photobooth!  Rent a photobooth from A Chocolate Affair (ACA)!  We rent linens and tables.  We rent chairs, provide music services, and we rent chocolate fountains.  We make your planning much simpler.  Get most everything at one stop.  That also means we can bundle and save you money.  Get your DJ, Chocolate Fountain, and Photobooth at A Chocolate Affair and entertain your guests all night long.
Our photobooth uses a high quality, dye sublimation printer so your pictures will last longer.  The prints take just 15 seconds to print so your not waiting around long for your photo strip.  We can also fit larger groups in our photobooth, so if you want to include more of your friends in your photo you can.  We can personalize the photobooth for your wedding or party, by adding your name/names to the side.  What a great presentation!
The photo strip consists of 4 quality pictures.  We can ad props, include your logo or name to the bottom of the photo strip.  We can also provide a scrap book for your guests to put their picture in.  What a great way to create and preserve memories.  We can make this something that is fun for both you and your guests.  Call us now to reserve your photobooth!