The Finest Chocolate Fountains in Utah County
A Chocolate Affair is the finest chocolate fountain rental provider in Utah County.  We offer 4 different sizes of chocolate fountains, along with beverage fountain rental, table and chair rental, linen rental and more.  Our chocolate fountains run on more that milk, dark or white chocolate.  You could use caramel, nacho cheese for a nacho bar, ranch dressing and butterscotch.
You determine how many people are going to be at your event and what kind of chocolate and then give us a call at 801-557-9432 to make a reservation.  Our chocolate fountains come with drip guards, an attendant that will set up and take down the chocolate fountain at the Utah County event, and skewers for the dipping items.  We can also provide the dipping items.  Call to get a quote.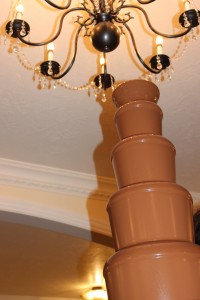 Take a look at some of our events at our news page.  We provide timely and professional service, and do everything we can to make sure you have the best chocolate fountain experience.
Chocolate fountains are fun and entertaining, as well as provide your guests with a treat.  If you are looking for more entertainment for your guests try out our DJ and music services and our photo booth.  A combination of a chocolate fountain, DJ and music service and photo booth will make your event memorable.
We are now offering our Italian soda bar.  Your guests will be able to select the flavor of soda and even mix different flavors together, add a little cream  and then top it off with whipping cream and you have a delicious hit!
Want to add a little pizazz to your chocolate fountain?  We are offering as an add-on real whipping cream to top off your chocolate dipped strawberries, bananas, or pineapple.  Call for a quote for the whipping cream add-on.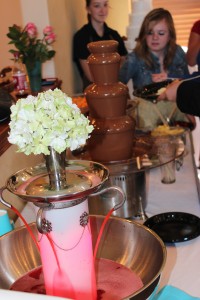 A Chocolate Affair offers chocolate fountains and event services to Utah County, Salt Lake County, Provo, Sandy, Draper, Salt Lake City, West Jordan, Lehi, Spanish Fork, Springville, American Fork, Saratoga Springs, Murray, Orem, and Holladay.