Chocolate Fountain Rental Packages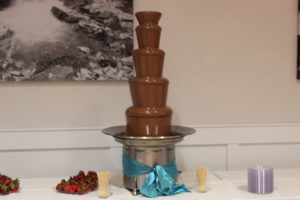 Pinnacle Rental Package: $365
44″ Chocolate Fountain
24 lbs of chocolate
Perfect for 150-250 guests
Double Chocolate Fountain Packages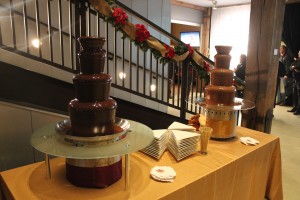 Double Premium Package $625
Two 34″ chocolate fountains
50 lbs of chocolate
Perfect for 200-400 guests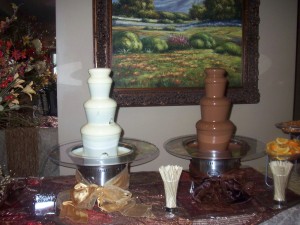 Double Standard Package $390
Two 27″ chocolate fountains
24 lbs of chocolate
Perfect for 150-250 guests
Triple Chocolate Fountain Packages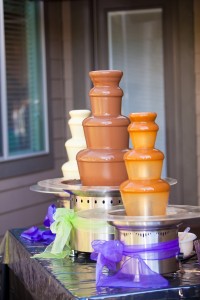 Variety Package $425
One 27″ chocolate fountain and two 19″ chocolate fountains
30 lbs of chocolate
Perfect for 100-250 guests
Premium Package: $625
One 34″ and two 27″ chocolate fountains
50 lbs of chocolate
Perfect for 200-400 guests
***Additional chocolate can be added to any package for more guests.
Wind Guards are available for an additional $10
Call now to reserve your date! (801) 557-9432
If you prefer to pick up a chocolate fountain and run it yourself we also have our self service 19″ fountains.  These are professional models as well, that are easy to setup and clean.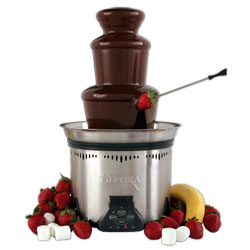 Self Service $65
19″ chocolate fountain
48 hour rental
Includes 6 lbs of chocolate
and skewers
We use Sephra Chocolate Fountains for your special events.
Utah Chocolate Fountain Rental Packages 
Call Now! 801-557-9432
We offer three different size chocolate fountains that can be combined several ways.  All of our full service  chocolate fountains in Utah are professional grade stainless steel models.   Choose from milk, dark, or white chocolate.  Or take a look at our "Extras" page for other suggestions such as caramel, cheese, or ranch dressing!   Click here for dipping items
Worried About the mess?  Our 44″, 34″,  and 27″ chocolate fountains include a drip guard

Chocolate Fountain
Chocolate
Skewers
Chocolate Fountain Attendant
Food Platters
Up to 3 hours of Chocolate Fountain use
Chocolate Fountain Set-up
Clean Up
HALF OFF ANY BEVERAGE FOUNTAIN RENTAL